Hiking and backpack camping with dogs is enjoyable. Dogs are excellent companions in the backcountry, although dogs can also pose several problems for backpackers and hikers. One major issue when you are in the backcountry with a dog is that it can create an encounter with a bear. For instance, If a dog is sleeping in a tent with their human companions, they may be carrying several interesting smells on their coat that bears may find interesting. However it is a very rare occurrence for a bear to invade a tent, and, when they do, it is usually because of left out food scraps or an unkept camp.Be sure to use the UDAP Bear Shock fence at your campground site for protection from bears.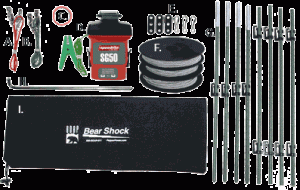 If you do run into a bear out on the trail, a dog may be tempted to run after the bear, barking, and the bear may feel that it has to defend itself. Dogs can be great instigators of trouble, although when the bear charges the dog or attacks the dog, the dog is going to run back to you, and he will be bringing the scared, angry bear with him. An encounter like this is completely preventable, by placing a leash on the dog when you are out on the trail. This and other safety tips are necessary for you to pay heed to in order to protect your dog and yourself as well. You could read more here about how you could enjoy fun activities and explore the outdoors with your dog in a safe and enjoyable manner.
Coming back to hiking with dogs, if you are going to be traveling in bear country with your dogs, leash them, but also give them a job to perform. Dogs can carry their own food and, possibly, other supplies on their backs. Keep the load light, though, dogs should not be required to haul too much weight on the trail. There are even backpacks built exclusively for dogs. If the dog is required to carry important supplies, then it should be leashed. A hot, tired dog isn't going to consider the load on his back when he sees a wide, muddy puddle or a deep, pristine mountain lake. A dog carrying sleeping bags should be leashed, at least until the backpack is removed.
Dogs do make excellent companions on the trail. Unlike some of your friends at the bottom of your call list, the dog will not complain out on the trail. Dogs can also sense possible dangers long before their human counterparts, and dogs may sense that cow moose around the bend, or the rattlesnake coiled at the other side of the log. Although, proper precautions should be taken, when hiking and backpacking with dogs in bear country.